About Me
After earning my diploma in translation, I worked for ten years in the business world, primarily in the fashion industry. I was involved in all aspects of export. As head of the foreign office, I supervised the preparation of contracts with customers, agents, distributors and foreign suppliers, the sales campaigns, shipping, relations between customers and the administrative offices, etc. I took part to several in-house marketing and international trade courses.
My formal training and a decade of "on the job experience" led me to begin my career in 1992 as a freelance translator in English, French and Spanish, and as a linguistic support to small businesses.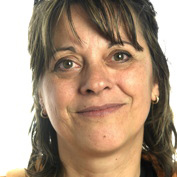 I work with translators and translation agencies, private customers and publishers, professionals and companies involved in diverse fields, artists and humanitarian organizations in Italy and abroad. I have translated some books and handbooks, either alone or as part of a team of translators. I represent the foreign liaison for some of my private clients: I translate their incoming and outgoing correspondence; I offer support in telephone and personal contact with their customers . . .
Need further information about me or my rates? Contact me!